The Saydah Law Firm represents homeowners associations and homeowners in all aspects of the law and related issues.The Saydah Law Firm helps associations with collections, enforcement, litigation, and any other legal guidance needed to effectively operate.
The Saydah Law Firm is built around the core philosophy that Community Matters. We stand strong on our commitment to helping build strong and healthy communities.
Florida Community Associations Law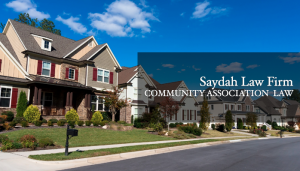 The Saydah Law Firm represents numerous community associations and performs all legal services that a community association may require.
Our approach to community association law always puts the community first when dealing with matters that put the association at odds with its members.
Additionally, the firm's background in complex commercial litigation, business law, construction law, and real estate law are essential to providing cost efficient and effective representation in all aspects of community association law.
Saydah Law Firm's Florida Community Association Services Include:
Covenant Enforcement Law Suits
Amendments and Renewals of Covenants and Restrictions
Amendments and Enforcement of ARC Guidelines
Negotiating and Drafting Vendor Contracts
Representing with regard to state, county, local, or government municipal matters
Landlord Tenant Matters
Real Estate Closings
Litigation and Trial Services
Construction Defect and Construction Lien Matters
The Saydah Law Firm provides extremely competitive rates for its community association services.  In many instances, the firm charges flat fees, so the association knows exact cost for the service.  To obtain more information about the Saydah Law Firm's community association services or to obtain information regarding the fees and rates, please contact us at (407)956-1080.