The Saydah Law Firm is a full service law firm that provides legal services in the areas of business law, real estate law, and community association law. The Firm also represents clients in litigated matters in the state and federal courts. Our first priority is achieving our clients' goals in a prompt and efficient manner.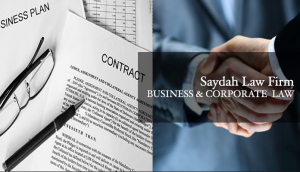 Listening to the client is the key to our success. Regardless of whether we are representing you in a construction dispute, business transaction, real estate closing, or any other matter, we will provide innovative legal solutions aimed at achieving your goals.
Business law is a term commonly used to refer to business relationships, transactions governed by the Uniform Commercial Code, company formations, start-ups, and contract law.  The Orlando business lawyers at the Saydah Law Firm can help you understand your rights and remedies at any point of a business relationship.
Many times the terms of a business relationship, including the manner for resolving disputes, are crafted at the outset of a business relations.  Thus, the ideal time to retain a business lawyer is prior to commencing a new business venture or relationship. Using detailed and comprehensive dispute resolution provisions will reduce costs associated with unwinding a business transaction or dissolving a business entity.